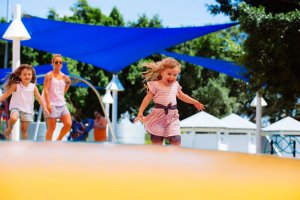 There are just as many places to relax on the Gold Coast as there are holiday attractions, providing a welcome change of pace, fun ways to pass the time and stunning natural environments that are worth checking out.

All located near our Broadbeach holiday apartments at Grangewood Court, here are the top 5 relaxing locations on the Gold Coast!
Broadwater Parklands
Next to Southport Marina, the Broadwater Parklands is a stunning waterfront park with wide open spaces, cycling paths, playground amenities, sheltering trees and, of course, glistening views across the marina and the bobbing yachts. For jogging, sunbathing, peace and quiet or a romantic picnic on the water's edge, the Southport Broadwater Parklands is one of the best places to relax on the Gold Coast.
Tallebudgera Creek and Currumbin Creek
After a day at the beach, visit Tallebudgera Creek or Currumbin Creek for a change of scenery and a few optional leisurely activities. Both offer sandy banks and surrounding rainforest trees, crystal-clear waters and an overall laid-back atmosphere for slowing down the pace, where you can swim, sunbathe, picnic, fish or hop in a kayak.
Burleigh Head National Park
In plain sight on the Burleigh Headland, Burleigh Head National Park is a 30-hectare oceanside park with lush rainforest trees, colourful flora, birdlife, lookout spots, picnic areas and more. Spend a few relaxing hours strolling in Burleigh Head National Park, which has numerous routes and trails to explore. One of these is the Ocean View Track, running along the foreshore with breathtaking views from Burleigh Beach to Surfers Paradise.
Macintosh Island Park
Near Main Beach and Surfers Paradise Beach, Macintosh Island Park is a small green oasis that offers instant repose away from the crowds and traffic. This idyllic riverside park is ideal for peaceful sunbathing, picnicking and taking shelter from the sun, offering closely set trees, running rivulets, cascading creeks and a friendly population of birds and peacocks, hence its local name Peacock Park.
Kurrawa Park / Pratten Park
Running along Kurrawa Beach in Broadbeach, Kurrawa Park and Pratten Park are just footsteps from the sand, sharing open grassy areas, shady trees, walking paths and small playgrounds for the kids. Settle down close to the sand to see Kurrawa Beach and the Pacific Ocean, making these two neighbouring parks perfect for kicking back and picnicking with a view, as well as catching the Gold Coast sunrise!
Relax at Grangewood Court Broadbeach Holiday Apartments
Visit all the above with Grangewood Court Holiday Apartments, situated in the heart of the Gold Coast in Broadbeach near the region's best beaches, tourist attractions, theme parks and events venues. We offer budget-friendly 2 and 3 bedroom accommodation for families and groups - modern, fully self-contained and complete with exclusive guest access to a range of resort-style onsite facilities.

We offer best price guaranteed on all direct bookings - find more information today at Grangewood Court Broadbeach Family Accommodation.