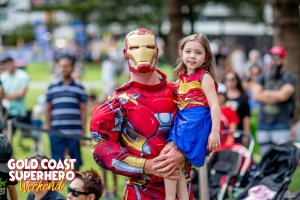 Calling all comic book, sci-fi, gaming and anime fans - Supanova Comic-Con lands on the Gold Coast this March for two days of tech and pop culture overload at the huge Gold Coast Convention and Exhibition Centre in Broadbeach.

Be one of the first to catch Supanova this year, kicking off its 2020 national tour in Melbourne and the Gold Coast with the Gold Coast's special event set to arrive alongside the annual Broadbeach Gold Coast Superhero Weekend!

For SupaFans, this action-packed three-day weekend is not to be missed. If you're one of the thousands not wanting to miss out, be at the heart of excitement this March with our Broadbeach accommodation near Gold Coast Convention Centre.
Supanova Comic-Con Gold Coast
It's back, and bigger than ever before! Supanova Comic-Con will take over Gold Coast Convention Centre with anime, comic and gaming exhibits, showcasing brand new tech with special guest panel talks, exclusive merch stalls and interactive activities for kids and adults alike.

The most sought-after expo of its kind in Australia, Supanova has it all under one roof, providing the unmissable opportunity to see stars from your favourite shows, pick up rare collectables from top exhibitors and get in-the-know with exclusive screenings of the best upcoming films and games.

This year, Supanova Gold Coast is coming hand-in-hand with Gold Coast Superhero Weekend 2020, a massive annual cosplay parade in Broadbeach with live entertainment, special guest cosplayers and a supercharged atmosphere. If you're a comic book fan, anime addict, gamer or all of the above, join thousands of pop culture vultures for this explosive weekend in Broadbeach on March 13, March 14 and March 15!
Book Cheap Gold Coast Convention Centre Accommodation
Located in central Broadbeach, our accommodation at Grangewood Court Broadbeach guarantees an unforgettable stay near all the excitement, comprising cheap two-bedroom apartments for families and groups looking to soak up both Supanova Comic-Con and Gold Coast Superhero Weekend this March.

Fully self-contained, relax in style in our two-bedroom, two-bathroom apartments, each featuring WiFi and Foxtel, a fully equipped kitchen with laundry facilities, large Queen/single beds and a private balcony overlooking our outdoor swimming pool and tropical gardens. Additional facilities at Grangewood Court include a barbecue area, games room and spa - free to use for all staying guests.
Save by Booking Directly for March
Coming March 13 to March 15, Supanova Gold Coast and 2020 Gold Coast Superhero Weekend are just around the corner, so make sure to book your stay in the heart of Broadbeach today! By booking directly with us at Grangewood Court Holiday Apartments, save money with our exclusive direct rates, providing best price guaranteed on our fully self-contained two-bedroom Broadbeach accommodation, including our three-bedroom penthouse apartments for large groups.

Get ready for March - find more information and browse our cheap direct rates by just visiting Grangewood Court.