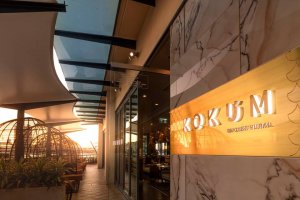 There are restaurants near our resort. Be sure to try these restaurants.
Jonez on Food
Enjoy casual dining at Jonez on Food. Jonez on Food has excellent food and service. Using the finest ingredients as well as classical French technique, Jonez of Food serves contemporary Australian menu. Critically acclaimed chef-owner Gary Jones serves innovative modern cuisine and British favourites. Jonez on Food is at 39d Masthead Way, Sanctuary Cove QLD.
Kokum
Kokum is an innovative dining experience situated in the Palazzo Versace Hotel on the Gold Coast. Michelin star chef Manjunath Mural and renowned Executive Chef Sabir Merchant are the creative minds behind Kokum.

Go on a culinary journey. Using traditional cooking methods and spices from India combined with fresh Australian produce, Kokum has a delightful menu. Kokum serves Indian and Asian cuisine. Take a gastronomic journey and enjoy the most exquisite cuisine from a beautiful location.

Come and try something unique and different. Kokum is located at 94 Seaworld Drive, Main Beach QLD.
IOESCO Cafe Cucina
IOESCO serves modern Italian and Mediterranean food. The traditional cuisine and warm ambience create an intimate dining experience. Bring your friends and savour the rich Mediterranean flavours. Relax and hang out at IOESCO.

The cafe offers delicious coffee, an al fresco dining area, lunch and dinner. Head over to Cafe Cucina and savour delightful food amidst a great environment. The cafe is located at 3a Masthead Way, Sanctuary Cove QLD.

Our Broadbeach Family Accommodation is near the restaurants. There are so many exceptional restaurants within walking distance from our resort. Our two bedroom apartments are perfect for holidaymakers. The apartments have laundry facilities and kitchen facilities. Feel comfortable in our air-conditioned apartments. WiFi makes it easy for you to keep in touch. The balcony provides excellent views to start your mornings right.

To learn more, go to http://www.grangewoodcourt.com.au/apartments.