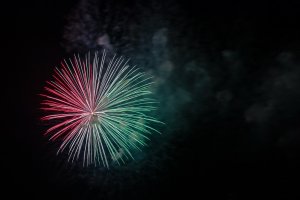 On December 31, there isn't a more exciting destination than the Gold Coast. Fireworks will light up the beaches from Surfers Paradise to Coolangatta, and you can be near these unmissable locations to celebrate New Year's Eve and more with our central Broadbeach family accommodation!

Book an affordable stay with Grangewood Court Holiday Apartments and experience New Year's Eve 2019 in Broadbeach. On Kurrawa Beach, just a short walk away from our location, enjoy a fantastic New Year's Eve atmosphere with two fireworks displays at 8 pm and midnight. Find more vantage points to watch the fireworks in Kurrawa Park and Pratten Park, and tuck in before the spectacle with various pop-up food vendors along the beachfront.

Alternatively, reach Surfers Paradise Gold Coast within minutes via Glink for New Year's Carnival 2019. Starting early from December 27, Surfers Paradise New Year's Carnival is a thrilling five-day celebration for all ages, featuring family-friendly rides, street entertainers, market stalls and two beachfront fireworks displays on the final night of 2019.

You can also witness the New Year's Eve fireworks on the Southport waterfront! Broadwater Parklands, a 15-minute drive north, will have two displays above the marina at 8.30 pm and midnight - ideal if you're looking to enjoy a more relaxed New Year's Eve in one of the Gold Coast's most picturesque parks.

Coolangatta is another top destination for experiencing New Year's Eve on the Gold Coast. Within a 30-minute drive from our Broadbeach family apartments, gather on Queen Elizabeth Park or Coolangatta Beach for two fireworks displays at 9 pm and the stroke of midnight, complete with a view of all the fireworks up the coast to Surfers Paradise!

Take your pick on New Year's Eve with our central Gold Coast accommodation in Broadbeach. At Grangewood Court Gold Coast, we offer affordable holiday apartments for families and groups of up to four guests - each featuring two bedrooms, two bathrooms, a comfortable living and dining area, full kitchen facilities and an inviting private balcony.

We also have stunning penthouse accommodation for up to 8 guests - perfect for viewing the New Year's Eve fireworks on your own private rooftop - along with a range of onsite guest facilities that include a swimming pool and spa, games room, barbecue area and more.

Don't miss out on New Year's Eve 2019 Gold Coast - save by booking directly with us today at Grangewood Court Holiday Apartments.